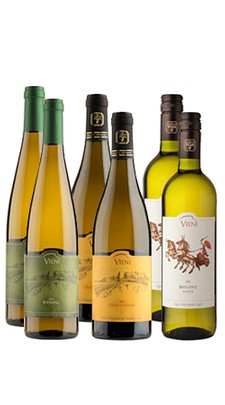 White Wine Sampler
2012 Chardonnay
In 2012, the Vinemount Ridge in Niagara was blessed with the appropriate blend of sun and rain needed to make a great Chardonnay. Under the careful tutelage of our master winemaker, a well-rounded and balanced wine emerged. Straw yellow in hue, this fruity well-balanced Chardonnay begins with hints of golden apple, pear and coconut, and develops into a full-bodied wine with lingering ripe fruit, cotton candy and vanilla tones.
2011 Briganti White
Today the vinification of hybrids such as Baco and Foch remain forbidden in Europe and yet in Canada these grapes thrive, and so we too prefer to play outside the rules, taking the best of old world and current wine cultures to create a collection of perfectly blended wines.
Briganti was the goddess of the largest Celtic tribe in the north of England - the Brigantii. They constantly challenged Roman rule, and armed conflict frequently erupted when the confines of Pax Romana became unbearable. This defiance of convention echoes through the ages and the name "brigand" still describes one who plays outside the rules.
2012 Riesling
The truest expression in the New World of this noble grape is surely found in Niagara, and 2012 on the Vinemount Ridge was especially notable. This wine has everything a proper Riesling should – it explodes with the fruity and floral tones of passion fruit, grapefruit, green apple, banana and orange blossom. Lemon yellow and beautifully scented, Vieni's 2012 offering epitomizes the light refreshing character that is a truly great Riesling.