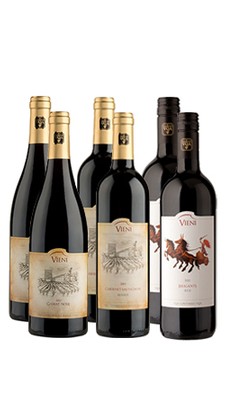 Red Wine Sampler
2012 Gamay Noir
Gamay Noir has proven to be a varietal well suited to the rolling hills characteristic of the Vinemount Ridge. Characteristically an early ripening grape, it flourishes in our cool climate and consistently delivers fully ripe grapes. The 2012 Gamay is a brilliant ruby red medium bodied wine, fresh and fruity with notes of wild cherry, black pepper nutmeg and soft tannins which culminate in good length and a delicious mouthfeel.

2010 Cabernet Sauvignon
An extended growing season in 2010 produced a CABERNET SAUVIGNON that achieved full maturity and flavor. Growing grapes on our surrounding hillsides produce intense, concentrated fruit whose diversity is truly tied to the earth and temperate climate of our region.
Our 2010 CABERNET draws attention to these unique qualities - to a sense of place. Two years of barrel aging in French Oak, hints of wild cherries and blackberries create a brilliant ruby red wine with an explosively savory and fruity spiced finish that will compliment any occasion.

2012 Briganti Red
Today the vinification of hybrids such as Baco and Foch remain forbidden in Europe and yet in Canada these grapes thrive, and so we too prefer to play outside the rules, taking the best of old world and current wine cultures to create a collection of perfectly blended wines.
Briganti was the goddess of the largest Celtic tribe in the north of England - the Brigantii. They constantly challenged Roman rule, and armed conflict frequently erupted when the confines of Pax Romana became unbearable. This defiance of convention echoes through the ages and the name "brigand" still describes one who plays outside the rules.