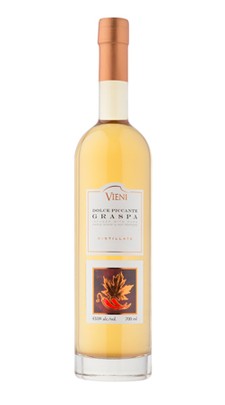 Dolce Piccante Graspa
Wine Profile
Tasting Notes
Straw yellow; the nose is intense, stinging with hints of chili, anise and honey; the impact sweet, slightly spicy aftertaste well balanced, persistent with chilli, honey and caramel.
Awards
2015 IWSC International Wine and Spirits Competition - Silver, 2015 Hong Kong International Wine & Spirit Competition - Silver
Product Reviews
Carole Moritz
(Mar 16, 2016 at 10:39 AM)
I first tasted this "grappa" on site during a wine and food pairing event. I then served it after dinner with espresso to our next door neighbours and they fell in love with it. This has become my favourite after dinner drink. The slight taste of maple with just that little bit of a nip from the hot peppers makes it a delicious drink.
Frank joe boaventura
(Jun 6, 2016 at 4:31 PM)
Great after dinner with a nice cigar
Ed. Baptiste
(Feb 8, 2019 at 4:21 PM)
the best tasting ice wine not too sweet it was right on the button
Ed. Baptiste
(Feb 8, 2019 at 4:30 PM)
in my previous review I meant to say wine not ice