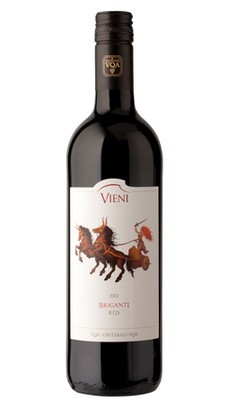 Wine Specs
Varietal
Foch, Chambourcin, Baco
2014 Briganti Red
Briganti was the goddess of the largest Celtic tribe in the north of England - the Brigantii. They constantly challenged Roman rule, and armed conflict frequently erupted when the confines of Pax Romana became unbearable. This defiance of convention echoes through the ages and the name "brigand" still describes one who plays outside the rules.
Today the vinification of hybrids such as Baco and Foch remain forbidden in Europe and yet in Canada these grapes thrive, and so we too prefer to play outside the rules, taking the best of old world and current wine cultures to create a collection of perfectly blended wines.
Product Reviews
Jason Hancock
(Jul 27, 2017 at 6:00 AM)
Tried this wine last night an thoroughly enjoyed it. I really enjoyed the forward taste of the Foch and the Baco finish. Just happens to be two of my favorite grapes. Wish this wine was available in NS. Looking froward to my next trip to ON to get more. Maybe even get the time to visit the winery itself. So, if you are looking for a fantastic wine at a great price, you will not be disappointed.