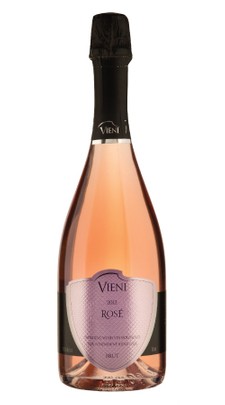 Wine Specs
Appellation
Vinemount Ridge
Vineyard Designation
Vieni Estates Inc
2012 Sparkling Rosé Brut
Made from a blend of Chardonnay, Pinot Noir, Pinot Meuniere, and Riesling, our 2012 Rosé Sparkling is beautifully pale peachy-pink, fruity and fresh with hints of wild strawberries, apple and yeast, tangy and dry with a finish of forest herbs
Wine Profile
Tasting Notes
Our Rose is beautifully pale peachy-pink, fruity and fresh with hints of wild strawberries, apple and yeast, tangy and dry with a finish of forest herbs.
Product Reviews
Aimee
(Jul 26, 2013 at 12:42 PM)
My girlfriends and I went for a wine tour a couple days ago, and Vieni was by the far the best service we got anywhere! We all agreed that this sparkling rosé was the best of the bunch. It's like champagne, yet so much better somehow! I can't wait to come back! P.S. Coolest light fixtures ever!