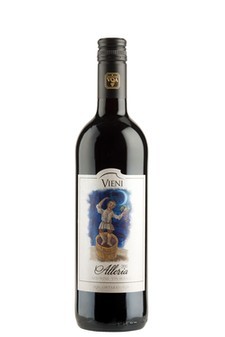 Wine Specs
Varietal
Cabernet, Foch, Baco
2012 Alleria Red
Our Alleria Red Wine, crafted with traditional methods, is made from a blend of Cabernet, Baco Noir and Merechal Foch. This wine exemplifies great balance in both colours and tannins creating a medium bodied wine for your drinking pleasure.
Product Reviews
sue
(Oct 19, 2018 at 8:41 AM)
We enjoyed a bottle of this excellent wine last weekend. It was compared against 2 other reds - a Meritage and an Italian full bodied (sorry, don't know the name of it). The general concensus was that the Vieni was the most enjoyable of all - smoothest, tastiest, etc. AND, by far the least expensive of the 3. I'll definitely buy more. Thanks Vieni for a great, affordable product.
Vanessa
(Jan 11, 2019 at 7:47 AM)
I was gifted 2 of these bottles and I am so sad that I cannot find it anywhere in any LCBO in Toronto. Please send more ;)