Pork Sausage & Beef Chili Stew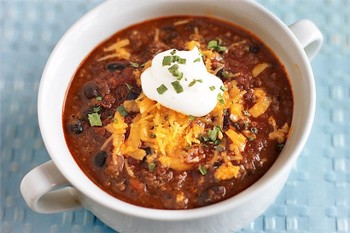 Total Time: 150 mins
Prep Time: 30 mins
Cook Time: 2 hours
Ingredients:
4 cloves garlic, finely chopped
2 medium onions, finely chopped
1 red bell pepper, chopped
1 yellow bell pepper, chopped
3 tablespoons chili powder
1 tablespoon ground cumin
1 tablespoon smoked paprika
Salt and freshly ground black pepper
1 pound lean ground beef
1 pound pork sausage meat (removed from the casing)
1 cup Vieni's 2011 Merlot
1 can black beans, drained and rinsed
1 can kidney beans, drained and rinsed
1 can crushed tomatoes
1 can diced tomatoes, with juice
Sour cream, for garnish
Shredded Cheddar, for garnish
1 tablespoon of scallions/green onion for garnish
1 loaf of Ciabatta bread
Directions
In large heavy-bottomed pot, cook the garlic, onions, bell peppers until tender. Add the beef and break it up with a wooden spoon. Once beef is broken up and beginning to brown, add the pork. Once the meat is cooked, add the chili powder, cumin and smoked paprika and season with salt and pepper, to taste. Stir in the wine and beans. Toss together, then add the crushed and diced tomatoes. Turn the heat down to low and simmer for 1 ½ - 2 hours. Taste for seasoning and add salt and pepper, if necessary.
10 minutes before serving the chili, halve a loaf of ciabatta bread. Drizzle olive oil on top, chop up as much garlic as you like and sprinkle all over. Put in your oven at 375 degrees or toaster oven for about 10 minutes or until golden and crunchy.
Once cooked, transfer the chilli to serving bowls and garnish with sour cream, shredded cheddar cheese and scallions. Serve with warm crusty, garlic ciabatta bread.