Pan Seared Lambchops just in time for Father's Day!
Serves 6 - Pair it with Vieni's 2011 Merlot or 2012 Pinot Noir
These lambchops are easy and quick to cook. Pair them with sautéed rapini or roated baby potatoes. Don't forget to enjoy them with a glass of our Merlot or Pinot Noir.
Ingredients: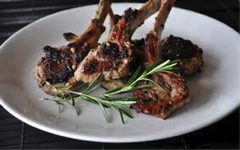 2 cloves of crushed garlic
1 1/2 tablespoon of chopped fresh rosemary
2 fresh rosemary sprigs
3 tablespoons of olive oil
1 teaspoons of olive oil
1 teaspoon of salt, ground peper, garlic powder, thyme and sage
1/2 cup of Vieni's 2011 Merlot or 2012 Pinot Noir
Preperation:
Season Lambchops with salt, peper, garlic powder, sage and thyme. Cover and refrigerate for 30 minutes.
Heat heavy large skillet over high heat. Add as many lampchops in skillet at a time and cook each side for 2-3 minutes (until each side is seaered).
Lower the heat and add olive, crushed garlic, rosemary and wine. Let simmer until desired doneness and until a thick sauce is created.
Buon Appetito and Happy Father's Day from your family at Vieni Estates!