Herb Crusted Baked Salmon with Cilantro Risotto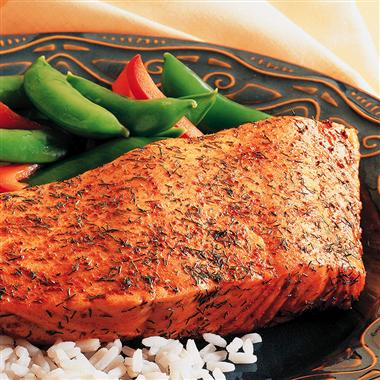 Paired with Momenti Rose Extra Dry
Salmon: Total Cook Time: 25 mins
Risotto: Total Cook Time: 25 mins

Ingredients - Salmon:
1 Large Piece of Salmon - Keep whole
3 tablespoons of olive oil
2 teaspoons of course sea salt, ground pepper, garlic powder and oregano
Ingredients - Risotto:
Arborio Rice & water (follow package measuring instructions)
1 clove of garlic, minced
1/2 Spanish onion, finely chopped
1 chicken bouillon
1 tablespoon of butter
1 tablespoon of olive oil
2 tablespoons of finely chopped cilantro
1 tablespoon of Parmigiano cheese
Preparation - Salmon:
Turn oven on to 375 degrees F.
Place salmon in a baking dish. Coat salmon in olive oil, then rub on the course sea salt.
Cover and place in refrigerator for 10 minutes.
Remove Salmon from Refrigerator and sprinkle the ground pepper, garlic powder and oregano.
Place in oven for 25 minutes or until salmon becomes golden. Do not cook salmon for too much longer as it can quickly dry out. Once salmon is ready, remove from oven and cover in foil until it is ready to be served. Do not keep in oven, as it may dry out.
Preparation - Risotto:
While the Salmon is cooking, begin preparing the risotto.
In a pot, cook Rice in water with bouillon (follow measurements on package). Keep uncovered, until it begins to boil.
In a separate pan, add the olive oil and sauté garlic and onion until translucent. Set aside.
Once the rice begins to boil, add butter and mixture. Stir (add more water if needed) cover and simmer for 10 – 15 min or until rice is al dente.
Once rice is al dente, uncover and turn off burner. Add the cheese and cilantro, fluff it and serve within 5 minutes.
Plate the salmon on a bed of cilantro risotto and enjoy with a glass of Momenti Rose Extra Dry.
Buon Appetito and enjoy with a glass of Vieni's Momenti Rose Extra Dry