Cherry Tomato, and Basil Crostini
A great Spring/Summer apetizer. Ideal for BBQ's or cocktail parties.
Ingredients: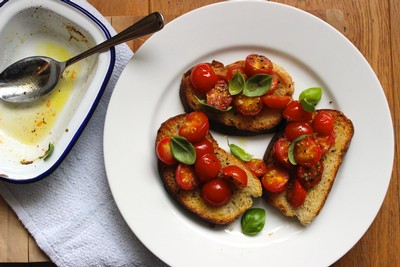 1 French Stick cut into thin pieces on a bias
1 Pint of Cherry Tomatoes
2 Tablespoons of Olive Oil
1/2 cup of chopped Basil
Oregano flakes, Salt & Pepper to Taste
Directions
Heat oven to bake.
Place pieces of bread – face side up - onto a baking dish and drizzle with some olive oil
Halve Cherry Tomatoes and season with olive oil, oregano flakes, salt and pepper. Place in a baking dish and bake for 25 minutes.
When the tomatoes have 10 minutes left to cook, place the bread in the oven and bake for 10 minutes or until the face becomes golden.
Remove bread and tomatoes from oven. Let bread cool and top with tomato mixture. Sprinkle basil on top and any remaining olive oil.
Serve on a platter, along with a cold glass of Vieni's Chardonnay. Enjoy!