Collard Green Potato and Chorizo Soup - Caldo Verde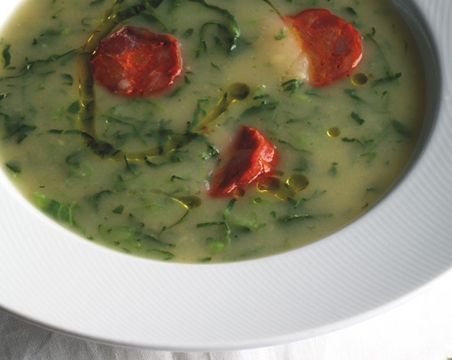 Total Time: 55 mins
Prep Time: 15 mins
Cook Time: 40 mins
Ingredients:
1/4 cup chopped onion
1 clove chopped garlic
3 tablespoons of olive oil
4 medium size potatoes, peeled and cut in cubes
1 litre of water
1/2 litre of Chicken Broth
6 ounces cooked chorizo sausage, thinly sliced
Salt and black pepper
1 pound collard green, ends removed and thinly sliced
Directions
In a medium soup pot, heat 3 tablespoons of olive oil, add onions and garlic and cook until they become translucent. Add potatoes and water. Cover and boil gently over medium heat for 20 minutes. When the potatoes are soft, mash them with a potato masher right in the pot. Add the chicken broth, the chorizo, the collard green and salt & pepper. Simmer for 25 minutes, adding more water if needed. If required, add more seasonings. The consistency should be creamy.
Ladle into bowls and serve.