Baked Pasta Primavera - A great summer dish!
Serves 6 - Pair it with Vieni's Alleria White or Rose
This pasta dish is great as a main, it's easy to make and it tastes even better as a left over. Don't forget to enjoy it with a glass of our Alleria White or Rose!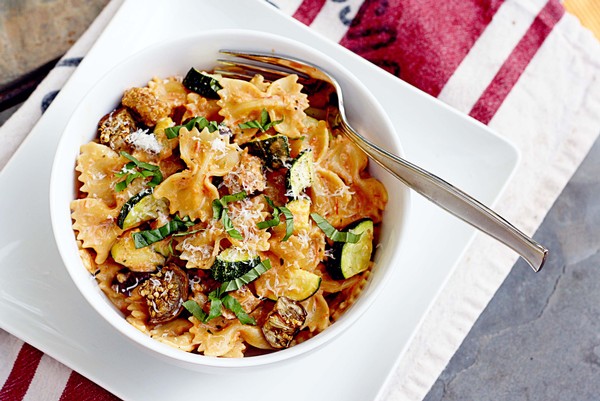 Total Time: 45 min
Preperation Time: 25 min
Cooking Time: 35 min
Ingredients:
2 medium zucchini or 1 large zucchini, cut into small chunks
1 onion, thinly sliced
1 yellow bell pepper, cut into small chunks
1 red bell pepper, cut into small chunks
½ cup olive oil
Salt and freshly ground black pepper
1 tablespoon dried Italian herbs; such as oregano, basil and bay leaf
1 pound Farfalle (bowtie pasta)
10 cherry tomatoes, halved
1/2 cup grated Parmesan
½ cup shredded Mozzarella
1 cup 35% cream
3 cups of Tomato Sauce
1 garlic clove, finely minced
Preperation:
Preheat the oven to 450 degrees F.
On a large heavy baking sheet, toss all of the vegetables with some of the oil, salt, pepper, and dried herbs to coat. Transfer the vegetable mixture to another heavy large baking sheet and arrange evenly over the baking sheets. Bake the vegetables until they begin to brown, stirring after the first 10 minutes, about 20 minutes total.
In a pot, sauté your onions and garlic with the remaining olive oil, once translucent add the tomato sauce. Cook for 20 minutes on high, then add the cream and simmer for 10 min.
Meanwhile, cook the pasta in a large pot of boiling salted water until al dente, tender but still firm to the bite, about 8 minutes.
Toss the pasta with the vegetable mixtures and ½ of the sauce in a large bowl to combine. Then begin layering the pasta with vegetables in a Lasagne baking dish. Steps: 1) Pasta with vegetables 2) Grated parmesan 3) Mozzarella 4) Sauce. Repeat all steps until all of the pasta is in the lasagne baking tray.
Cover the tray with aluminum foil and bake 400 degrees F for approximately 15 minutes.
Once plated, sprinkle with the Parmesan and serve immediately.