Novello Nouveau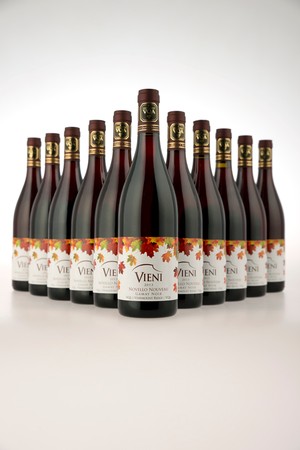 Vino Novello, Italian for 'young wine', is crafted in the Nouveau tradition. Our Nouveau is made from hand picked Gamay Noir grapes. 100% carbonic maceration is used to produce the wine with short fermentation creating a young light wine with fruity flavors, overflowing floral notes and very light tannins. Join us at the winery mid December as our winemaker guides you through this unique wine making process. Stay tuned for details of our Novello Nouveau Party where you can taste the wine paired with some finger foods.
The production of Nouveau wine originated in France's Beaujolais region, and it's said that the wine was created to reward vineyard workers of the completion of harvest and to enjoy before the holiday season.
Vino Novello, Italy's 'young wine' is similar to its cousin Beaujolais Nouveau however there are some distinct differences. Typically the Beaujoulais Noveau in France is launched the third Thursday in November as opposed to the Novello release in Italy on November 6th. Nouveau is produced from a single grape variety, Gamay as opposed to the Italian wine that uses over 60 varieties in their production. In France, the harvest of Gamay is strictly hand picked where in Italy machinery is acceptable to collect the grapes.
In terms of production, 100% carbonic maceration must be used when making Nouveau and a minimum of 30% is common for Novello. What is carbonic maceration? Quite simply, carbonic maceration is the process that occurs when whole clusters of grapes are put in a sealed container that contains carbon dioxide. The grapes undergo a fermentation process without the addition of yeast.
Here at Vieni Estates, on the Vinemount Ridge we hand pick our Gamay Noir and produce our Nouveau using 100% carbonic maceration. Our young purple-pink wine has fruity flavors with overflowing floral notes. We suggest it be served cold and consumed within a year. Salute!